Our office uses modern, state-of-the-art technology to enhance patient comfort and to help you get the smile you deserve!
---
TRIOS® Intraoral Scanner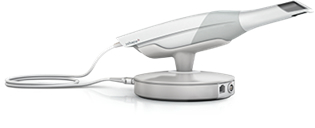 Reduce Chair Time & Improve Patient Experience with TRIOS Intraoral Scanner
The TRIOS intraoral scanner enables us to create exceptionally accurate digital impressions and securely email them directly to our lab immediately from chair-side. There is no faster way to get impressions from patient to lab.
High Quality Clinical Results
High digital impression accuracy for high quality restoration fit
Instant preparation and impression validation
Reduced adjustment and grinding during seating
Easy Impression Taking
Powder-free scanning
No impression materials and mess
Never retake an impression
Benefits for Patients
Better Experience
Quick with no discomfort caused by impression materials
Extra comfortable with powder-free scanning
Increased Satisfaction
High quality restoration fits and minimal grinding
High quality clinical results
More Convenience
Reduced number of appointments due to fewer retakes
Reduced overall chair time
---
Computer Digital Radiography (CDR)
| | |
| --- | --- |
| Digital x-rays can now be taken using sensors that transmit the image directly into a computer monitor. This larger image helps the patient understand the doctor's explanations more easily and enables the doctor to "zoom in" on a specific area of the tooth. An important advantage to this new technology is that it reduces the amount of radiation by 90%. Digital x-rays are also faster. The digital image only takes a minute or two to appear in the monitor. In addition, this new technology is friendly to the environment since no chemicals are needed for developing the image. | |
---
Statim Cassette Sterilizers: Advanced sterilization system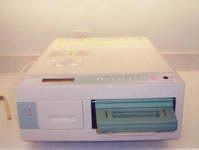 Today's challenge of infection control and the demand of modern patient treatment are met with SciCan's state of art sterilization technology. In 1989, SciCan introduced the first STATIM Cassette Autoclave® to the marketplace. Today, dental and medical practitioners in over 60 countries worldwide rely on Statim to protect their patients and staff from infection from contaminated instruments.
Since SciCan began manufacturing, its autoclaves have won several design and product awards in Canada and Europe. As sales continue to grow, several versions of innovative Sci Can autoclaves have been introduced to thousands of dental and medical offices and hospitals throughout the world.
Effective sterilization
The Statim's biological and physical effectiveness has been proven in tests for hollow and solid instruments as many internationally recognized institutes including: University Hospital of London, Canada; Brooks Air Force Base, United States; The University of Liverpool, England; Institute Pasteur, France, and University of Kiel, Germany.

Reliable
Statim is a reliable sterilization system that's compact enough to fit in patient treatment areas, and fast enough to provide sterilization of instruments between patients. The Statim 2000 and 5000 take just 6 and 9 minutes, respectively, for a complete sterilization cycle. Light, thin walled cassettes promote rapid heating and cooling, further minimizing overall process time.
---
Ultrasonic Cleaning
| | |
| --- | --- |
| The cavitron is an ultrasonic scaler. Power scalers do a more thorough job in less time. This results in significantly decreased scaling time and healthier, cleaner teeth and gums. Hand scalers require repetitive scraping movements and are restricted to adaptation of only one or two sides of the instrument. In comparison, all four sides of a power scaler can be adapted, because the device moves in an elliptical motion. This comes in handy when removing stain and deposits from behind and between the teeth. Ultrasonic scalers are more effective in removing stain as well. The ultrasonic vibration helps control oral bacteria by breaking down the cell wall of the bacteria. The water used to cool the cavitron then helps to rinse away bacteria, stain and debris. | |
---
Prophy-Jet

Prophy-Jet is an air polishing system which uses air/water/sodium bicarbonate slurry to remove extrinsic stain, dental plaque and soft debris while, at the same time polishing tooth surfaces.

This is highly effective on patients wearing orthodontic appliances. It is also a nice way to remove tarnish from silver fillings adding life and luster.

Sodium bicarbonate is accepted by most patients and is both minimally abrasive and water-soluble.

Air polishing leaves the teeth smoother, cleaner, and whiter.
---
Advanced closed water system
Uses distilled water made fresh in the office.

Iilluminates contamination from bio-films found in tap water.

This is the water used to rinse the patients mouth during cleanings and other procedures.
---
Computerized Medical History Forms

Less paperwork for the patient.

Easily updated.

Doctor can access from home for emergency.

Decreases risk of medical errors.
---
Intraoral Camera
| | |
| --- | --- |
| | Our intraoral camera uses a tiny fiber-optic wand to easily take vivid photographs of the inside of your mouth. This allows us to let you see what we see. |
---
Veneers
| | |
| --- | --- |
| New technology in veneer fabrication allows us to perform dazzling transformations with minimal surface preparation. | |
---
White fillings
| | |
| --- | --- |
| | Although white fillings have been around for a long time, the new materials can now be used in a wider range of applications allowing you to keep your smile as white as it can be! |