Dr. Sidor was born and raised in Brevard County. After graduating from University of South Florida, he attended Loyola University of Chicago School of Dentistry and graduated with honors in pedodontics (children's dentistry). Dr. Sidor then completed an Advanced Education General Dentistry Residency in the United States Air Force, which gave him the absolute best training available in all phases of dentistry. After a two year tour of duty in Germany, Dr. Sidor returned to Florida to continue his career in a private general dentistry practice. He has been practicing in Merritt Island since 1996.
Dr. Sidor is a member of the Academy of General Dentistry, the American Dental Society (including the Florida and Brevard County subsidiaries). He is currently Chairman of the Brevard We Care Dental Clinic and the 2007-2008 Past President of the Brevard County Dental Society. In 2000 he completed all the requirements to become a Fellow of the Academy of General Dentistry. The Academy of General Dentistry is an organization of approximately 35,000 dentists committed to continuing dental education in order to provide patients with the best care possible. Earning a Fellowship award requires completing 500 hours of continuing education courses within ten years, and passing a difficult fellowship exam. Dr. Sidor constantly attends continuing education classes in all phases of dentistry. In 2007, he was inducted into the Pierre Fauchard Academy, an Honorary Dental Organization recognizing outstanding Dentists. In 2012, Dr. Sidor received his A.G.D. Mastership Award. This award requires a total of 1,100 continuing education hours, 600 hours must be in specific disciplines of dentistry and 400 hours must be participation hours.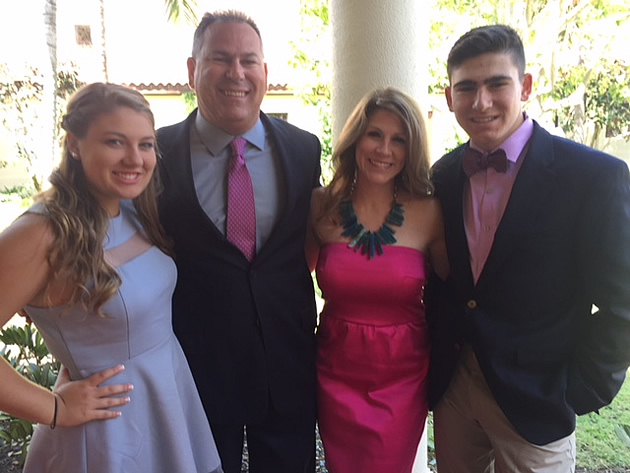 Dr. Sidor married the love of his life in 1998. He and his wife, Giovina have two children: Sara and Nicholas, whom you will likely hear about on your visits to our office. He loves being on the water; fishing and scuba diving, and enjoys playing tennis.
Dr. Sidor's main philosophy in dentistry is to treat every patient as an individual and in the same manner as he would treat his family.
---
| | |
| --- | --- |
| Hi! My Name is G. Sidor. I am Dr. Sidor's wife and Administrative Manager. I would like to personally extend a warm greeting to our wonderful existing patients and to our new patients. I have had a lot of experience in the dental field prior to meeting my husband. I was a dental assistant for eight years and then decided to apply to the dental hygiene program. After completing my education and successfully passing the dental hygiene boards, I married Dr. Sidor and have the wonderful opportunity to not only help manage our office but also work with my husband every day. I am constantly being stopped in my daily routine to hear patients say how warm, gentle, and understanding he is with them. He enjoys dentistry and tries to make each patient feel comfortable and receive the best possible treatment while in his care. Welcome to our practice, and we hope that we together will enjoy years of smiles with you. | |
---
| | |
| --- | --- |
| My name is Bridget; I am Dr. Sidor's Practice Manager. I will be happy to assist you with understanding your insurance benefits, scheduling your dental appointments, and answer any questions you may have regarding our practice or your account. I started my dental career in 1997; during my dental career I have attended numerous conferences and continuing education seminars. I have enjoyed the interaction with our patients and developing new friendships. I started with Dr. Sidor October 2013 and feel very fortunate to have found such an amazing team and office that I can be part of. I am a true native to Florida, born and raised in Orlando. I enjoy being outdoors and on the water. I am an animal lover and have two dogs, a Jack Russell, Jazy and a Miniature Dachshund, Auggie. I like giving back to the community and have done charity work for Make A Wish Foundation. I look forward to welcoming you to our practice. | |
---
| | |
| --- | --- |
| My name is Christina and I am one of the Administrative Assistants for Dr. Sidor. I am happy to help patients with treatment plans and scheduling services needed. I work alongside Dr. Sidor and Staff to make your experience at our office a positive one. I enjoy assisting patients and educating them on their insurance benefits. I have a passion for health and wellness and strive to help patients reach their optimum dental health. My husband, Daniel and I just welcomed our baby girl to our family. We are thrilled to be new parents and love all of the new experiences we have with her. I am excited to be part of this wonderful dental team and happy to meet all our existing patients and welcome all of our new patients to our practice. | |
---
| | |
| --- | --- |
| My name is Amy. I am a Dental Hygienist for Dr. Sidor. I am a native of Florida and graduated from Titusville High School. I graduated from Brevard Community College with my Associate in Science degree in Dental Hygiene and my Associate in Arts degree. I continued my education and received my Bachelor's degree in Hygiene from St. Petersburg College. My husband and I have been married since October of 2003. We enjoy going out on the weekends, bike riding, and spending time with family and friends. I chose to be a Dental Hygienist because I like working with the public. I feel very lucky to be part of Dr. Sidor's office because it is a very fun office to work in, especially since we all get along very well. | |
---
| | |
| --- | --- |
| My name is Paige. I've been a practicing Dental Hygienist since 1999. Originally from California, my husband and I moved to Florida in 2005. A year later our son was born, and a year and a half after that we added to the family with the birth of our daughter. I am very happy to be part of Dr. Sidor's "dental family" and feel so fortunate to work with such an amazing group of people. | |
---
| | |
| --- | --- |
| My name is Cher. I am one of Dr. Sidor's Dental Hygienists. I graduated from both the dental assisting and dental hygiene programs at Brevard Community College/Eastern Florida State College. I then went on to earn my Bachelor of Science in Dental Hygiene from St. Petersburg College. I grew up in Merritt Island and love working in my hometown with such a great office. I am happy to be able to educate my patients in such a comfortable and relaxed atmosphere. In my free time, I enjoy the beach and sun with family and friends. | |
---
My name is Tonya, I am a Dental Hygienist for Dr Sidor. I received my Associate degree in Dental Hygiene from Brevard Community College in 2001. Continuing my education, I received a Bachelor's degree in Dental Hygiene from St. Petersburg College. I enjoy educating people to help improve their dental and overall health.

My husband and I have been married since December 1989. We are proud parents of 3 grown children and have 2 wonderful grandchildren. In my free time, I love spending time with my family, cooking, and being outdoors. I feel privileged to work with such a wonderful group of people, here at Dr Sidor's office.
---
| | |
| --- | --- |
| My name is Andrea, one of Dr. Sidor's dental assistants. I am beyond blessed and excited to be a part of such an amazing office. I graduated from Space Coast Jr/Sr High School and also graduated from Eastern Florida State College with EFDA/ATD and AA Degree. I am continuing my education in the dental field. I'm very fortunate to be a part of such an incredibly talented dental team. I look forward to each day I am here in the office. When I am not working I love to dance, go out on the weekends, relax at the beach, and spend quality time with my friends and family. I look forward to meeting all our patients as well as our new patients. I make it my goal to ensure that all of our patients are comfortable and at ease in the dental chair. | |
---
| | |
| --- | --- |
| My name is Meaghan and I am one of Dr. Sidor's dental assistants. I graduated from Eastern Florida State College in August of 2017 with my EFDA, ATD, and CDA. I have wanted to pursue a position in the dental field since I was young and am very excited to begin my career doing what I love. I am very intrigued about dentistry and hope to always continue and grow as a dental professional. Fortunately, I have been blessed to work with such an amazing team and hope to build strong relationships with all current and new patients in the office. | |
---
| | |
| --- | --- |
| My name is Kari and I am one of Dr. Sidor's Certified Dental Assistants. I completed my internship with Dr. Sidor's practice during my last semester of the dental assisting program. I had the opportunity to join his dental team on a permanent basis. I feel lucky to be part of such an amazing group of dental professionals. I enjoy assisting and helping patients with their treatment needed. My goal is to be the best assistant and deliver excellent treatment to our patients. I am also working as a Patient Coordinator with scheduling patients and reviewing treatment plans. In my free time, I enjoy running, skateboarding, and being outside. I look forward to meeting all our existing and new patients and helping make you feel comfortable in our practice. | |